Aktipis Flower Shop
10/08
The flowershop was completely emptied of existing elements and replaced by 14 archetypical tables arranged in the middle of the shop on which to display the flowers and plants.
Clad in white square tiles the tables vary in proportion and size and can be grouped and combined in diverse ways. In combination with the white floor they act as the perfect background for the rich, vivid and complex colours and shapes of the flowers and plants. The wallpaper is generated from a blurry image of natural vegetation - a piece of jungle – scaled to gigantic size. Images of birds, taken from an old Greek encyclopaedia appear to be playing with the shops technical details; plugs, water drains and speakers.
The new facade incorporates an abandoned steel door and areas of embossed leaf-pattern glass. Part of the façade is set back, offering a display space outside the shop. Garden chairs used inside, small plastic lizards on the tables and the sound of birds emanating from the speakers, complete the surreal experience leaving one constantly wondering if this actually is an exterior or interior space.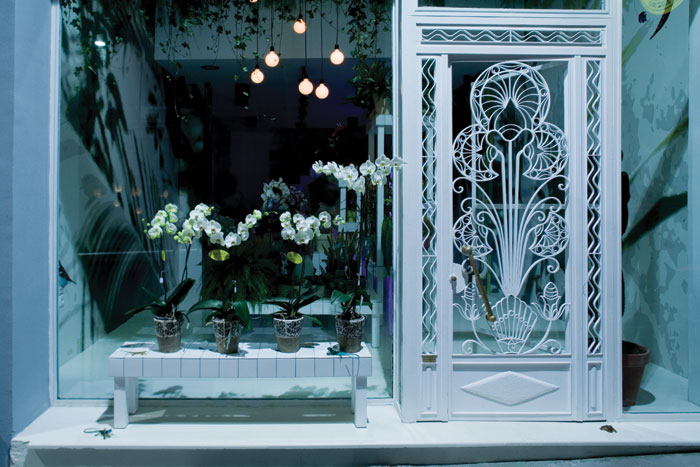 status: built
program: flower shop
area: 40 m2
budget: 20 000 euros
location: Patras, Greece
team: Konstantinos Pantazis, Marianna Rentzou, Giorgos Pantazis
photos: Yannis Drakoulidis
year: 2008