After Utopia
06/17
After Utopia is one of the episodes of 'Faraway, So Close'- the 25th Biennial of Design in Ljubljana.
Read more...
Totems
12/16
'Totems' consists of 3 vertical lists of things;
Read more...
Roman Villa

12/16
Roman Villa proposes a house that is reduced to a billboard and sleeping cells;
Read more...
The Playfulness of the Real at Chicago Architecture Biennale
01/16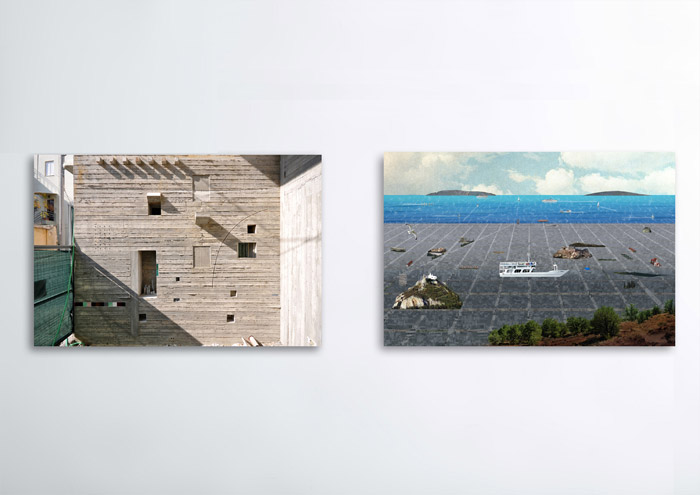 Point Supreme present couples of the most extreme opposite parts of their work:
Read more...
Tag Mosaic

09/14
The project mixes byzantine with contemporary street art.
Read more...
Οnly in Athens

03/14
Cities and their traditions constantly evolve. Tourist souvenirs should reveal the uniqueness of a place
Read more...
Projects for Athens at Venice Architecture Biennale
08/12
Point Supreme Architects presents 8 visions for the future of Athens in the Greek Pavilion at the Venice Architecture Biennale 2012.
Read more...
Rivera and Kahlo House
09/12
The studio-house of Diego Rivera and Frida Kahlo were designed by Juan O'Gorman and built in San Angel Inn in Mexico City.
Read more...
Europe 27 - 2nd Prize
02/12
On the occasion of the Cyprus Presidency of the European Union Council during the second half of 2012, the proposal invents a new representation for the EU;
Read more...
City of Tables
08/10
Greek cities are deliberately dense due to a cultural demand for physical closeness and constant social interaction.
Read more...
The Architects Brain
11/11
'In pre-modern epochs, renewal of practice was always initiated by looking backwards, as a return to the fundamentals.
Read more...
100 Views of Acropolis
07/11
In 1834 Hokusai illustrated Mountain Fuji from every angle and context, capturing the gift of immortality that lay hidden within it.
Read more...
Athens As An Island
05/11
Archipelago Cities
The geography of the Greek archipelago seems to reappear in the urban setting of Athens; the city is a translation of the archipelago landscape of the Cyclades.
Read more...
Marble Mural
11/10
The piece is a hymn to marble; a 10 x 2m wall consisting of 7 marble pieces of different origin, natural history, color, texture and image.
Read more...
Half Real
06/10
The proposal reconstructs, from blue foam, the gallery space of Six DOGS at half its size.
Read more...
Athens By Hills
05/10
Athens by Hills highlights the full range of unexploited mountains, hills and natural remains that float in the city fabric and around the Acropolis
Read more...
Exarcheian Walls
02/09
In December 2008, the shooting of a 15-year-old student in Exarcheia caused extensive rioting in the area. While the riots were still taking place for days, life in the surrounding city continued intact as if on either side of an invisible wall.
Read more...
Heaven
02/09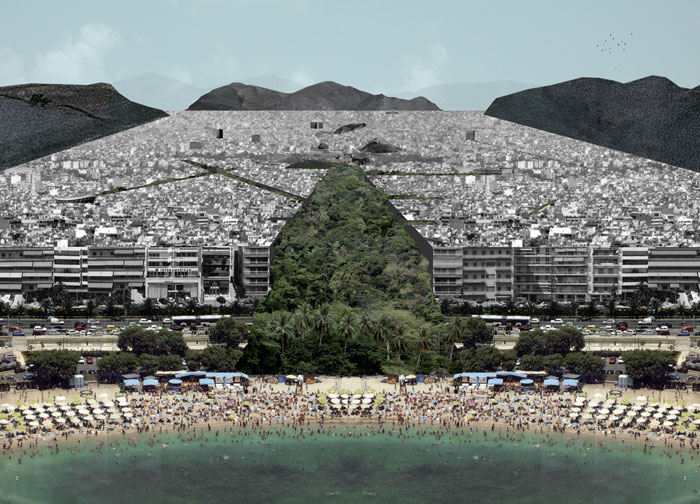 There is only 2.7 m2 of green space attributed to each resident of Athens making it the most deprived of all European Capitals. In the most densely built central areas the percentage drops to a mere 0.4 m2 per person.
Read more...
Unbuilt-Legitimization 1
07/08
The contemporary Greek city, lacking any overall planning or vision, expands in all directions. It is materialised through the endless repetition of polikatikias (apartment building); in essence the realization of the domino house.
Read more...
Athens as Polikatikia
12/09
Athens As An Island
05/11
Learning from Athens
04/10
Athens Tourist Campaign Poster
07/08
collaborator John Karahalios
Read more...